The Laser is a long-ranged turret in Block Fortress. 
Laser
Basic Information
HP

60

Offensive Capabilities
Damage per Hit

0.5-1.0

Range

80

Armor Piercing

High

Rate of Fire

9.0/s
Add several of them in your defensive layout. It is useful for slowly cutting enemies.
Place them high up in order to minimize their contact with Goblocks.
About four of these turrets can kill 10 Goblock Sergeants easily, so it is best to add lots of laser turrets.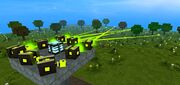 Lasers emit a trail that will be visible regardless of light level.
Various parts of the laser will glow in the dark.